Imagine the scenario – you have gathered a group of family and friends and want to go on a fun trip to Sydney. One question invariably arises – what kind of vehicle should you rent for your transportation purposes? The answer to the question, contrary to what some people think, is rather obvious – a minibus. While a variety of different vehicles including cars, vans, and buses are available for hire in Sydney, minibus transportation remains the choice of many due to various reasons.
The Best and Most Affordable Minibus Transportation in Sydney
So, why do so many people choose a minibus for group travel over other options? We at Cheap Bus Hire have the answers.
Space
If you are a small family or a group of five or six people, an 8 seater car is usually the best option. If you are a large party, say about 30 to 40 people, a full sized bus is the best option. If you, on the other hand, are a group of 15 to 20 people, a minibus is the best option. A car is too small to accommodate all of you, so you might have to hire multiple vehicles. A full sized bus, on the contrary, is too big and a waste of money. So, in such a scenario, minibus transportation emerges as the best and most economical option for you.
Convenience
A chauffeured minibus means you can start and end your trips any time you want. If you are dependent on public transport, you have no option but to alter your schedule according to local bus and train timings. When you have your own rented vehicle, you can stop it anywhere you want, take a break, refresh, and then continue your trip. You can also stop it any time you want along the way and take snaps with your friends and family. Basically, it is a lot more convenient than taking a local bus or train or even taking a taxi.
Stress-free Travel
When you opt for a minibus for hire with driver Sydney trip becomes a lot less stressful and a lot more enjoyable. The driver is highly experienced and knows the city of Sydney inside and out. He knows all the local attractions, eateries, and other places you might want to visit and also knows how to take you there quickly and safely.
More Luggage Space
A minibus can not only accommodate around 20 people comfortably, but also has plenty of space for your luggage. One of the major gripes people have with public transportation is that they cannot carry as much luggage as they would like to. If you are someone who packs lots of stuff even for a day trip, you cannot carry it all on a bus or a train. There might not be enough space and even if there is, you will be charged separately for the luggage. With a rented minibus, you have no such problems at all. This again is a key reason why many people prefer minibus transportation for their Sydney trips.
Group Travel Fun
Traveling as a group can be great fun. If you were to rent a bunch of cars, you have to split up, in which case there is simply no point in planning a group trip in the first place. With a minibus, you can travel with all your friends and family, which makes the drive to local attractions all the more engaging and enjoyable. It gives you a sense of togetherness and camaraderie, which makes the trip all the more fun and memorable. This again is the reason why we at Cheap Bus Hire offer affordable Sydney minibus hire options for those who wish to travel as a group.
Renting a Minibus from Us
We at Cheap Bus Hire have a fleet of minibuses for you to choose from. Our minibuses are in excellent condition and equipped with all the latest safety features to make sure you have a safe trip. They come packed with a variety of features – radio, MP3 player, USB port, GPS facility, air conditioning, and more – to make sure you do not feel bored during long drives.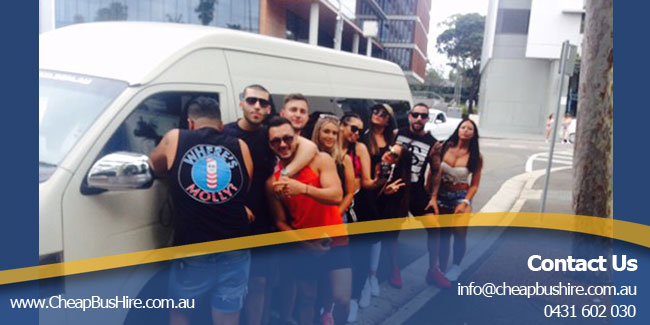 We offer child seats on request if you have babies and toddlers on board. We also offer personalized tour packages – shopping tours, day trips, picnics, night outs, and others – so that you can enjoy all that the great city of Sydney has to offer. Essentially, if you are looking for a reliable Sydney minibus hire company that you can absolutely trust and do business with, Cheap Bus Hire is your best choice.