If you are looking to travel from Sydney to Melbourne, you have plenty of options. From domestic flights to Sydney bus hire companies where you can rent a chauffeured car, you have a number of choices. You can choose one depending on your needs, budget, and preference. Let us now take a look at the different ways you can travel from Sydney to Melbourne.
Flight
It is, as you can very well imagine, the fastest way to travel from Sydney to Melbourne. You can get into the plane, put on your seat belt, read a book or listen to few songs, and before you know it you will have reached the destination.
There are a number of airlines that offer flights between the two cities. Your choices include Virgin Australia, Qantas, Jetstar, Tiger, and Webjet. Among these, Tiger and Virgin Australia are generally cheaper and can help you save a bit of money on the airfare. If you are traveling during the peak holiday season, the flight charges are likely to be more expensive. Similarly, if you try to book the flight on short notice, you might have to pay more towards flight tickets.
The best option is to travel during off-peak period, preferably mid week rather than weekends. Also, you can get a good bargain and save some money by traveling during the day rather than opting for overnight flights.
Mind you – if you opt to fly from Sydney to Melbourne, you have to take the distance from your home or the place of stay to the airport into consideration. To avoid unnecessary delays and last-minute rushes, you can hire a chauffeured vehicle from a Sydney minibus hire company. The chauffeur will drive you to the airport promptly on time without any delays. You can hire another vehicle when you reach Melbourne to go to the hotel from theHome airport as well.
Bus
Sydney to Melbourne by bus is a long trip – one that lasts anywhere from 10 to 12 hours – with a few stops along the way. Depending on your preference, you can start in the morning and reach Melbourne by the evening or start at night and reach the city the next morning. Overnight travels are generally shorter than travels during the day time though.
Train
Train journey is obviously more comfortable and less taxing on the body than bus journey. It is one of the reasons why many people prefer to travel by train. It takes around 12 hours to reach Melbourne by train. You do not have to, however, sit all the way through, like the in the case of a bus journey. You can stand up, walk around, lie down, eat some food, peep out the window, and stay comfortable throughout the journey.
Chauffeured Vehicle
There are a number of transportation companies in Sydney that offer chauffeured vehicles for your own use. You can take a look at the vehicles in their fleet and rent a car, van, or bus depending on your needs. If you are small group of five to six people, an 8 seater car could be a good choice. If you are a larger group, a minibus could be a better choice.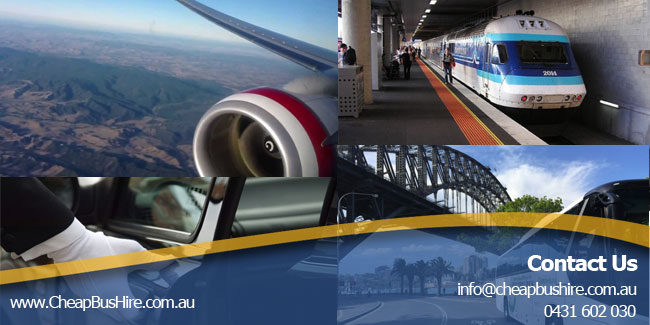 One of the biggest advantages of hiring a chauffeured vehicle is that you do not have to drive yourself. Driving for 12 hours straight can be really tiring, especially if you happen to visit the city during the summer. With an experienced driver behind the wheels, you can simply sit back, relax, and enjoy the scenery along the way.
The route from Sydney to Melbourne is incredibly beautiful and contains a number of local attractions. From the sandy beaches at Jervis Bay to the national parks teeming with all kinds of wildlife, there is plenty to see along the way. You can stop the car along the way, take mini breaks, and enjoy the local attractions to make the trip more interesting. This is one of the major advantages of renting a vehicle from a Sydney minibus hire companies, as you cannot do the same while traveling by flight, bus, or train.
Choosing Your Mode of Travel
Flight is obviously the fastest way to travel, but it is also the most expensive. If you are on a small budget, it might be out of your reach. Bus and train are cheaper, but it takes 12 to 14 hours to reach Melbourne and you could get bored, especially if you travel during the day.
The best choice is to rent a vehicle from the fleet of Sydney busses and cars offered by local transportation companies. You get an experienced chauffeur to drive you to the city safely and you can also stop the vehicle wherever you want, if you feel like visiting any of the local attractions along the way.