Sydney is one of the most sought after global destinations today. Visiting it along with your loved ones can be a really great experience. What is the point, however, in seeing the same places and doing the same things like the rest of the tourists? If you really want to enjoy Sydney like a local, you need to plan everything in advance – right from Sydney airport transport service to accommodation – and also know how to blend in with the locals and make the most out of your downtime.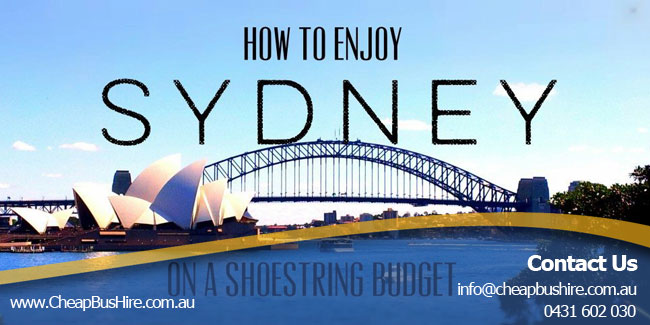 Given here are ten secrets to enjoying your trip to Sydney.
Plan Your Accommodation – Rather than staying in expensive hotels and resorts in the middle of the city, stay in a motel, bed & breakfast, or serviced apartments along the inner city suburbs. They are considerably cheaper than hotels. You can save a tidy sum of money, which you can spend on buying souvenirs and doing things you love.
Plan Your Transportation – When it comes to transportation, Sydney bus hire companies are your best choice. They offer an assortment of vehicles including cars, vans, minibusses and you can rent anything you want. The chauffeur will drive you around the city and take you anywhere you want.
Opt for Airport Shuttle – One of the many advantages of hiring Sydney busses or cars is that you can opt for Sydney airport shuttle The moment you land at the airport, you will have a chauffeured vehicle waiting for you. It is a great way to save time as you do not have to look for a taxi after landing at the airport.
Create a Schedule – Make a list of attractions you want to visit and look them up on the internet. Once you know the opening and closing hours of each attraction, you can easily estimate how many places you can visit and create a travel schedule accordingly. It will save you a ton of time and help you make the most out of each day of your visit.
Visit Darling Harbor – The Darling Harbor is one of the most popular local attractions in the city. There are a number of other attractions located in and around the harbor as well. You can pay a visit to the Sydney Aquarium and CBD Zoo and wildlife and marine life in all its natural glory. You can also visit Madame Tussauds and take pictures of the wax figures of famous personalities. If you have brought along kids with you, it is a good idea to visit the National Maritime Museum as well.
Visit Circular Quay – The place is home to three of the most visited landmarks in the city – Sydney Opera House, Sydney Harbor Bridge, and The Rocks. There are plenty of other attractions nearby as well and you can rely on your car or minibus transportation to get you there at the earliest so that you can beat the crowd.
Coffee at Surrey Hills – Surrey Hills is dotted with cafes and restaurants that serve amazing coffee. If you are a coffee lover, head straight to Surrey Hills, go to a corner café, find yourself a table, and enjoy a hot cup of coffee.
Try the Local Cuisine – Sydney has an extremely diverse culinary scene – From Japanese to French, Mediterranean, and Indian – you can find pretty much any type of cuisine you want here. Do try two dishes that are extremely popular with the locals as well as tourists – 'Shrimp on the Barbie' and 'Sirloin on the Bone'.
Watch a Game at the SCG – The Sydney Cricket Ground is an iconic landmark which draws millions of visitors every year. If you are a cricket fan, there is no better place to watch the game from than the SCG. Even if you are not, you can still pay a visit to the ground to watch a game of rugby or soccer, which takes place throughout the year.
Visit the Blue Mountains – If you are a nature lover, there is no better place in Sydney than the Blue Mountains where you can feel closer to Mother Nature. The lush green foliage and breathtaking views will keep you enchanted for a long time. Do not forget to check out the Three Sisters, a beautiful rock formation with a lookout point. You can also visit one of the spas in the nearby area, get a massage, or enjoy an aromatherapy session.
The secret to enjoying your Sydney trip is being prepared in advance – from choosing a reliable Sydney bus hire company to booking a comfortable hotel that gives great value for your money. Once you take care of these things, you can visit the places mentioned above, do the things you love, and enjoy your stay at the city to the fullest possible extent.