Sydney is a great city to visit. Due to the presence of a well-known bridge and famous opera house, this city has got its iconic status. Sydney is a beautiful city – full of mind-blowing sights, and spectacular monuments. This city is surrounded by a landscape of rivers, bays, beaches, and national parks.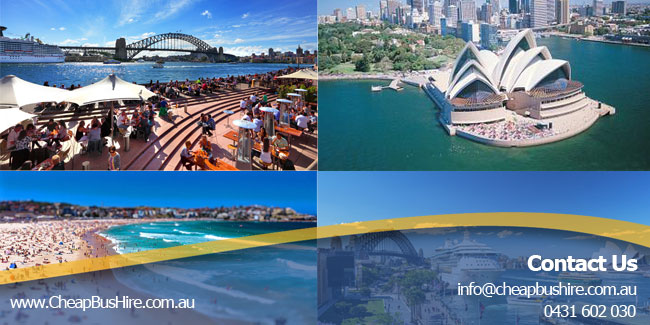 This city has been able to maintain a position among the world's best cities in terms of education, quality of life, and living standards. With its down-to-earth charm, this glorious city is able to attract a large number of tourists all year round.
Sydney offers a number of attractions to the tourists. However, you cannot expect to see all attractions of Sydney in one week. If you try to stuff everything into your itinerary, that will be an overwhelming effort from your side. Don't try to cram it all into a 5 days trip. Explore the city according to a well-planned itinerary.
Visit the more popular spots and leave the less popular ones for the next time. Make sure you don't miss a must-see attraction. For a budget trip with family or friends, you can use bus hire, Sydney mini bus hire or 8 seater car services from 'Cheap Bus Hire.'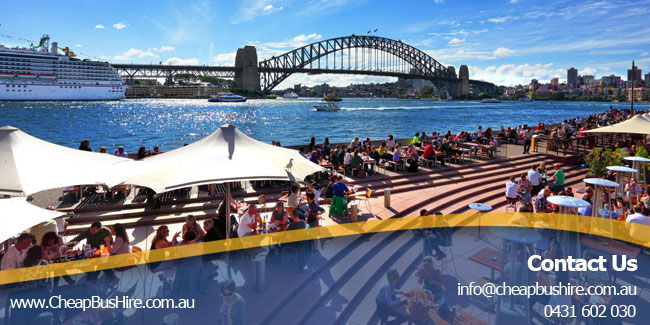 First day – Darling Harbor

• You can explore the Darling Harbor precinct on the first day of your trip. The Darling harbor precinct has an enthralling history. The harbor has been named after Ralph Darling who was governor of NSW from 1825 to 1831.
• It takes only 10-15 minutes to access this area from the city center. This is an active region with many restaurants, shops, entertainment spots, and other attractions.
• Darling Harbor is known to be Sydney's hub of entertainment. The point of interests includes the Powerhouse Museum, the Australian National Maritime Museum, Chinese Gardens of Friendship, King Street Wharf, Cockle Bay Wharf, Sea Life Sydney Aquarium, IMAX Theater, Wildlife Sydney Zoo, and Madam Tussads.
• On the same day, if you wish you can also plan a 3-4 hours walking tour of the iconic city. You can start from Circular Quay. You can explore the Rock District, have a look at the Opera House, make your way through the Royal Botanical Gardens, explore Sydney's city center and at the end, you can access the Darling Harbor.
Second Day – Opera House

• On the second day, you can visit the magnificent Opera house. Opera House is a world heritage and undoubtedly the most important landmark in Sydney.
• Opera House is a performing arts center. Due to its impressive architecture, most often visitors want to see the Opera House from different angles.
• Tourists are allowed to capture the internal beauty of the Opera House – they can get an inside view of the astonishing Opera House. For this, visitors need to watch one or more shows in the Opera House.
Third Day – Cruise

• Sydney is a harbor city. So, you must get a memorable cruise experience while exploring Sydney. Plan to take a cruise on the Sydney Harbor. Many different types of cruises are available for you. These cruises include the dinner cruise, sightseeing cruise, and dance cruise.
• Sydney harbor is an amazing spot. There is an abundance of ferries which operate out of Circular Quay to many destinations within Greater Sydney.
• Ferries from different originating points also keep arriving every 10-15 minutes. You can get amazing panoramic views of Circular Quays, Botanical Garden, and Sydney Opera House from the Sydney harbor bridge.
• If you love water sports and adventures, you should head to Manly and go the Shelly Beach. This beach is the best beach for you if you want to do snorkeling.
• If you are a seafood lover, you can cross the harbor and go to the Watsons Bay. Here you will get mouthwatering seafood. If you want, you can go to the Cockatoo Island. You can click a few stunning pictures on this island.
Fourth Day –Wildlife

• Australia is famous for its unique wildlife. On your fourth day, you should explore the famous wildlife sanctuaries of Sydney. You should go to the Taronga Zoo.
• You may also like to explore the Koala Park sanctuary. This sanctuary is home to kangaroos, wombats, dingoes, emus, echidnas, and many unique species.
Fifth Day – Sightseeing in Sydney
• You should spend a day for sightseeing. For terrific views of Sydney, Pacific Ocean, and the Blue Mountains, you should reach the top of the Sydney Tower Eye.
• If you are an adventurous soul, you can also climb the Sydney Harbor Bridge. This will be a stimulating experience for you.