Sydney is a great place to visit any time of the year. Autumn, however, is considered the best time to visit the city by many. The weather is not too hot and not too cold and the skies are clear, which allows you to roam around to your heart's content and explore every nook and corner of the city. Given below is a collection of Sydney autumn travel ideas – from booking Sydney airport shuttle services to attending seasonal sports events and cultural festivals, there are a number of things you can do in the city this time of the year.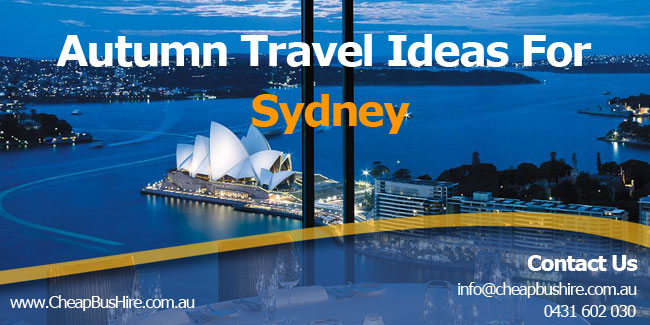 Airport Transfers
It is always a good idea to arrange for transportation well ahead of your travel date to make sure you do not have to depend on public transport or private cabs in an unfamiliar place. You can contact transportation companies in the city and book a car, van, or minibus depending on your needs. Most of these companies offer Sydney airport transport options as well. So, if you book in advance, you will have a chauffeured vehicle waiting for you at the airport itself.
Accommodation
Sydney is usually expensive during the summer season, as it draws the highest number of visitors at the time. So, an autumn trip could actually save you some money. Hotels, resorts, and motels are not as pricey as they are during the peak season and you can find plenty of affordable accommodation options to suit your budget. An easy way to save money on accommodation is to opt for a hotel in the inner city or the outskirts rather than in the city center. Traveling around should not be a problem, as you can easily secure your car or minibus transportation from a local transportation company.
Now, let us take a look at the things you can do on an autumn trip to Sydney.
Coastal Walk from Bondi to Coogee
The coastal walk from Bondi to Coogee is something that locals as well as visitors enjoy very much. You can see a number of scenic beaches, rock formations, and landscapes filled with natural beauty. It can be a very relaxing and soothing experience. It is particularly popular with city dwellers who find the coastal walk refreshingly calming, in stark contrast to the hustle and bustle of the city.
Wine Festivals
Autumn is a great time to taste some fine wine. The city of Sydney, as you probably already know, is home to a large number of wineries and vineyards. A trip to these vineyards is a great way to spend a day, as you can walk through the wineries, learn a thing or two about the process of making wine, talk to wine experts, and taste the best wines the region has to offer. You can pack your family into an 8 seater car or get a minibus, if you are larger in number, and head straight to Hunter Valley, which is well known for making premium quality wines.
Sydney Autumn Racing Carnival
If you love racing, the autumn racing festival is something you will enjoy watching. Theevent takes place over a span of six weeks at some of the best racing tracks in the city. It is a treat for any race lover. You can expect to see plenty of entertainment, energy, and high quality racing action at the events.
Autumn Harvest Festival
The Rouse Hill House and Farm in Sydney is known for its autumn harvest festival, which offers you an opportunity to sample and taste food items made from local produce. You can find stalls after stalls of fresh produce, procured from the gardens and farms nearby, brought to you by the local producers themselves. Apart from sampling and buying the produce, you can also listen to talks from farming experts, watch demonstrations by local producers, and many more.
Sydney Royal Estate Show
If you have brought along kids with you, you can attend the Royal Estate Show, which is held for two weeks during the season at the Sydney Olympic Park. It features a wide range of entertainment options including farm animals, amusement rides, and many more. Museums, zoos, and aquariums across the city are also usually packed during the autumn holidays, as lots of children love visiting these places. You too can take your kids along and have a great time there.
Sydney looks wonderful during the autumn season and is an ideal time for a visit with your family and friends. Just rent a vehicle from a Sydney bus hire company, gather your loved ones, and enjoy all the things that the city has to offer.